Laughter and Light Party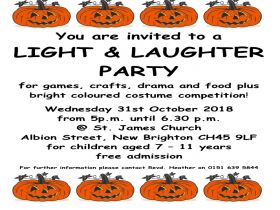 On All Hallows' Eve Wednesday 31st Oct at 5pm-6.30pm A Laughter and Light Party will be held at St James.
Games, craft, food and drama with a competition for the most brightly coloured young person. Bring a pumpkin if you wish and each young person will receive a goody bag to go home with.
7-11 can be dropped off and picked up but under this age will need to be accompanied by an adult.
article by Rev Heather Atkinson
Friday 26th October, 2018
You must login to comment