Up, Up and Away for Phase Three - Rev Heather's Sponsored Microlight Flight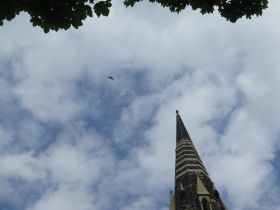 Up, Up and Away for Phase 3!!
Rev Heather will be doing a microlight flight with West Lancashire Microlight School over New Brighton as a sponsor for Phase 3 which involves restoration of the North aisle roof. Rev Heather will do a flyover to inspect St. James from a unique angle around 4pm on Sunday 1st November. 'I will be setting off from Ince Blundell and coming over the River Mersey, so keep a lookout'.
Due to Covid 19, All Inspire fundraising events have needed to be cancelled which means fundraising for the restoration fund has been affected. Please would you consider, if you are able, taking this into account?
The West Lancashire Microlight School is still operational under tier 3 and is a Covid 19 secure business.
If the weather doesn't permit, a different day will be given.
If you like to sponsor her you may make a bank transfer using the Ref Flight
The bank details are:
Parish of New Brighton St James with Emmanuel
Sort code: 60-13-16 Account: 40113485
Or you may use the link Go Fund Me
https://gf.me/u/y3yauq
article by Rev Heather Atkinson
Friday 2nd October, 2020
You must login to comment