Reflections and Tips for Dealing with Loneliness and Isolation and Who to Ring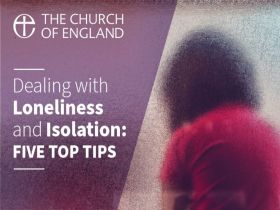 Here is a link to some reflections to help with mental health
https://www.churchofengland.org/faith-action/mental-health-resources/supporting-good-mental-health
Dealing with loneliness and isolation: Five top tips
1. Pray. Light a candle, if safe, and pray for hope, faith and strength to keep loving and caring for each other during this time of struggle.
2. Talk about how you feel. This may be difficult if you are self-isolating, but do use the telephone, internet, and social media. If you need to contact a counsellor this can be arranged by your GP, or via local
agencies, or privately. The Samaritans are there 24 hours a day, every day, and it's free to call them on 116 123.
3. Focus on the things that you can change, not on the things you can't.
4. Look after yourself - physically, emotionally, spiritually. Plan in things that you enjoy at regular intervals during the day – a TV programme, a phone call, a book, a favourite dish, a game.
5. Look after others. Even if only in small ways, but do what you can: a smile, a kind word, writing a letter or an email.
For more inspiration please visit this page to download the PDF resource
https://www.churchofengland.org/faith-action/mental-health-resources/supporting-good-mental-health/supporting-good-mental-health
Also if anyone is facing end-of-life issues, those who are bereaved, anxious about someone in hospital, residential care or isolated at home. Please ring the national line between 8am-11pm 7 days a week and is open to everyone – of all faiths and none: 0330 229 1700.
Or to speak with the parish of New Brighton's Vicar, please ring
0151 6395844.

article by Helen Harvey
Sunday 29th March, 2020
You must login to comment