Bishop Keith invites you to join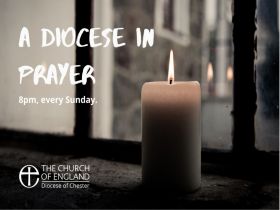 Lighting a Candle and Joining Together in Prayer
Bishop Keith says ….
This Sunday night, if you can, light a candle at 8pm, and cry out to God in prayer for ourselves, our country and our world. There are many ways we can pray and there are wonderful resources out there. Here is one suggestion from me if anyone would like any help,
Take one hand and look at:
• Your thumb – pray for your church community and family;
• Your first finger – pray for the NHS and those medical researchers looking for a vaccine;
• Your second finger – pray for the Government and all those making tough decisions;
• Your third finger – pray for those in care homes and working with the most vulnerable in our communities; and
• Little finger – pray for individuals known to you and yourself.
Each prayer focus for each thumb and finger could itself open up into prayer personally, locally, nationally, and globally.
Take the other hand and read out loud:
"As God's chosen ones, holy and beloved, clothe yourselves with compassion, kindness, humility, meekness, and patience" (Colossians 3:12) and let your thumb and each finger represent one of these "clothes" we are to put on:
• Thumb – compassion
• First finger – kindness
• Second finger – humility
• Third finger – meekness
• Little finger – patience
When you pray, put your hands together, and let the "clothing" of one hand touch the people and places in the other, and see what God does.
Maybe prayer like this could become part of our daily rhythm in this strange new time for us all. However we pray, it is the Lord who meets with us in listening and speaking.
With love in Christ,
+Keith

article by Helen Harvey
Thursday 7th May, 2020
You must login to comment