Worship restarts in August!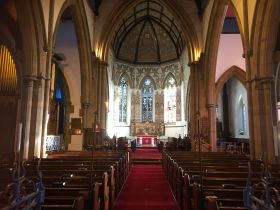 As the number of cases of Covid-19 in Wirral has reduced significantly in more recent weeks, communal worship will re-start in our parish in August! The PCC has discussed and agreed the following dates and times for services during the month. All the August services will be Holy Communion.
At Emmanuel there will be a service every Thursday morning at 10 am, the first service taking place on Thursday 6th August. In order to maintain social distancing, the services at Emmanuel will take place outdoors, but if the weather is bad will be moved to the hall.
At St James' the first service will be on Sunday 16th August at 10 am. Subsequent worship at St James' will be on the following Sundays (23rd and 30th), also at 10 am. (Note, there will be no 8 am service during August).
For all services strict social distancing and sanitising practices and will apply, and the NHS Test and Trace procedures will be conformed with.
In September we will move to a pattern of services at both churches every Sunday. Full details will be given in September's magazine and on our various social media platforms.
As you probably know, our churches have been open for private prayer recently. This will continue to be available at Emmanuel throughout August (Saturdays 10 am to noon), and at St James' on Mondays until 10th August, also at 10 am until noon.
It is so good to be able to take these small but important steps on the road back to normality, and at last to know we can meet as a worshipping community once more.

article by Richard Wilberforce
Thursday 23rd July, 2020
You must login to comment