Funerals, Weddings and Baptisms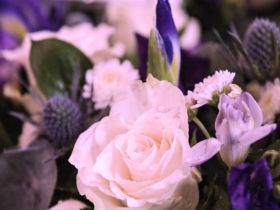 The Recovery Group of the Church of England prepares information documents as government guidance changes through the Covid-19 pandemic. The information given below was up-to-date when issued on 23 July 2020.
Funerals:
Should have no more than 30 people in attendance, and physical distancing should be strictly adhered to. A safe distance of at least 2 metres (6ft or 3 steps) must be maintained between households at all times during the service, including entering and leaving the building.
Alongside the member of clergy, Funeral Director and staff, the government has stated that only the following should attend:
• members of the person's household
• close family members
• or if the above are unable to attend, close friends
Discussions between the family and funeral director should cover the need to keep numbers within government guidance and there must be good stewarding of the funeral on the day.
If you are unable to attend a funeral due to the limiting of the number of people, it may be helpful to remember the deceased person and give thanks at home on the day. Here is a prayer which you may wish to use.
Dear God,
Thank you for ..... , for all that they meant to me and others.
I so wanted to say goodbye, to be alongside my friends/family.
Help me to know you are there,
Holding all my hopes,
Holding all those I love, especially ..... ,
And holding me this day in your loving arms.
Be close this day with your peace and hope.
Amen.
Weddings:
The government previously strongly advised that numbers were restricted to 30 for public health reasons but it was announced on 22 September that this number is restricted further to 15 people only from 28 September. This maximum number includes all those at the ceremony, including the couple, witnesses, officiant and guests. It also includes any workers who are not employed by the church such as photographers. It does not include staff or volunteers employed by the church such as vergers or churchwardens. The service should be kept concise while still consistent with the nature of the occasion, focusing on those parts of the marriage that are required in order to be legally binding under the law of England and Wales.
Apart from the bride and groom, who join hands as an essential part of the marriage ceremony, a physical distance of 2 metres should be observed between individuals as far as is possible. Please note that the minister does not have to touch the rings at the Giving of Rings, nor does he or she have to touch the couple's hands as part of a prayer or blessing. Where rings are touched by anyone other than the bride and groom alone, hands should be washed or sanitized before and after.
Baptisms:
As the foundation of Christian life, baptism is a time of joy and celebration for candidates, parents, godparents and the whole church family. While it may be some time before this celebration can be enjoyed as before, there are steps which can be taken to make it as memorable as possible while still adhering to government guidance on physical distancing, public health hygiene and protection of those particularly vulnerable to Covid-19.
For infant baptism, the candidate, his/her parents, godparents and the minister are all that are required to be
present and parents might wish to keep to this number. Government guidance has limited the numbers at baptisms
to 30 people, where they are held outside of regular worship. If the baptism is held within a regular act of worship then the physical restrictions of the building need to be assessed for how many it can hold safely with physical distancing and the family informed accordingly.
For All Of The Above Life Events:
It is strongly advised that face coverings should be worn by all those attending a place of worship,
including ministers, worshippers, staff, volunteers, contractors and visitors, where there may be other
people present; remembering that they are mainly intended to protect other people, not the wearer,
and that they are not a replacement for social distancing and regular hand washing. From 8 August, the government has said that the requirement to wear a face covering will be extended to other indoor settings including places of worship and become enforceable in law.
Hymns and singing are not allowed as this may encourage droplet and aerosol spread. Recorded music should be used as an alternative.
Sanitising stations should be used and directional signage for entering and exiting followed.
If you require more information or wish to arrange a Funeral, Wedding or Baptism at either St James or Emmanuel churches, you can email the Parish Administration Team at stjameswithemmanuelnewbrighton@gmail.com or leave a message at 0151 630 6677 and we will return your call.
Alternatively, Rev Heather Atkinson can be contacted at
revheatheratkinson@gmail.com
Tel 0151 639 5844

article by Helen Harvey
Tuesday 4th August, 2020
You must login to comment