New Reader for the parish - Liz Cooper- Clark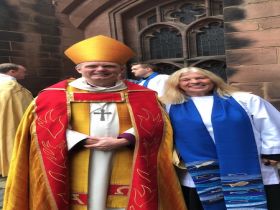 Many of you have had the chance to meet Liz Cooper Clark as she was awaiting her licensing service and settling into the parish from moving to New Brighton.
Some of you from the email news you were sent may have watched the licensing service from Chester Cathedral last Saturday when Liz was licensed with 11 other readers by Bishop Mark.
Liz for the first time will be preaching Sunday 17th October as a licensed reader for the first time. Please give her some feedback and an official welcome.
article by Rev Heather Atkinson
Friday 15th October, 2021
You must login to comment