Organfest at St James'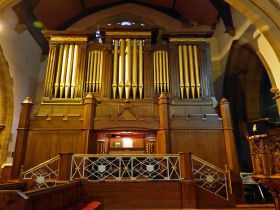 If you are a music lover, mark Saturday 9th September in your diary. On that day we have invited accomplished organists from all over the north west to "Come-and-Play" the organ in St James'. There will be wall to wall organ music in a variety of styles played from 10am to 4pm. There will be no charge to come and listen, and the idea is that members of the public can freely dip in and out to listen for as long as they wish during the day.
Why have we chosen 9th September? The reason is that this is the main day of National Heritage Open Days in 2017. This is when the public are encouraged to visit historic and beautiful buildings. So we can expect a large number of visitors to St James' on that day, and we hope that the background of organ music will encourage them to stay a little longer than they otherwise would, and fully enjoy the beauty of the church.
Please do think about dropping in at some point during the day, and encourage your friends and family to come along too – it will be a real treat! If you are an organist and would like to book a playing slot, please contact Richard Wilberforce on 07535 661318.

article by Richard Wilberforce
Thursday 13th July, 2017
You must login to comment