The Paul Mirfin Band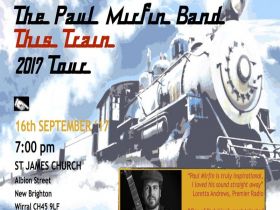 The Paul Mirfin Band are on tour this autumn following the launch of their new single This Train is Bound for Glory. This tour will include an appearance at St James church on Saturday 16th September, at 7pm. Tickets are available from the church, or the Paul Mirfin Band website (http://thepaulmirfinband.com/2017-autumn-tour-dates/).
Get on board for an evening of foot-stomping hoedowns with a touch of Yorkshire flat caps. The Paul Mirfin band have exploded onto the folk rock music scene over the last year performing on Tbn Uk and across the world including Fnb Stadium, South Africa and Times Square, New York.

article by Paul Maines
Tuesday 18th July, 2017
You must login to comment