"Experience Christmas"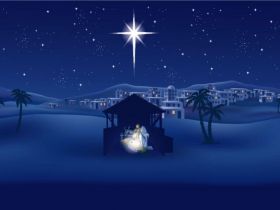 The latest display in the St James' exhibition area invites you to engage with different parts of The Christmas Story through 'stations'.
The Preparation – Thinking about preparing hearts as well as homes during Advent.
The Announcement – The angel visits Mary.
The Promises – The birth of Jesus is foretold.
The Journey – Mary and Joseph make their way to Bethlehem.
The Message – The angels appear to the shepherds.
The Gift – God's gift of Jesus.
Take a moment to reflect on what the Bible tells us about Christmas. How were individuals chosen and how did they feel? Learn how the Old Testament prophets foretold the coming of our Saviour. Discover the best gift of all this Christmas, Jesus, Emmanuel, God with us. Thank you to Helen Jones for creating this display.

article by Richard Wilberforce
Friday 16th December, 2022
You must login to comment